Stock Up on Low Calorie Staples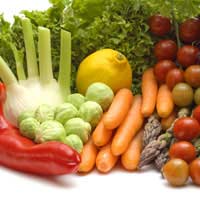 High calorie products such as butter, cream, milk and cheese are frequently used in the recipes we enjoy, but they can send the calorie value of recipes soaring.
Fortunately there is a wealth of low calorie alternatives in our shops now and these are the kind of products you will want to keep in the fridge.
Dairy Products
When you are shopping for low calorie staples, replace whole milk with skimmed or semi-skimmed and buy low-fat yogurt, low-fat crème fraiche or fromage frais instead of cream. Skimmed milk contains the same amount of calcium, protein and B vitamins as whole milk, but only a fraction of the fat.
Eat foods such as cream, cream cheese and hard cheeses in moderation. There are reduced-fat cheeses on the market with 14% fat content, that is half the fat content of a full fat cheese. Use these where possible.
A hard cheese like Parmesan, a high-fat, high calorie cheese, is alright to use if you remember to use only a spoonful, grated. That is enough to give plenty of flavour to a sauce or as a topping for a savoury dish.
Spreads and Oils
Be sparing in your use of butter, margarine and low-fat spreads. Try to avoid or seriously reduce your use of fat and oil for cooking. It is possible to dry-fry certain foods and to use an oil spray for the merest hint of oil.
If you have to use oil, make sure your staples are olive, corn, sunflower, soya, rapeseed and peanut oils which are low in saturates. With prepared products, buy oil-free dressings and reduced fat mayonnaise.
Good Basics
Often we don't realise that biscuits, cakes, pastries, snacks and processed meals and curries all contain high proportions of fat. Make a point of reading food labels carefully and seeking out low-fat options with no added sugar.
Good snack basics to have in your store cupboard include:
oatcakes, good for fibre
oats to use for crumble toppings and flapjacks, as well as cereal
brown rice and basmati rice
rice noodles
onions
a selection of pasta
fresh lemons and limes to use in dressings and sauces
eggs
Eggs are very versatile, although whole eggs have quite a high fat and high calorie content. Egg whites, on the other hand, have only trace elements of fat and are low in calories. Meringues made from egg whites are a staple of low calorie desserts. Keep a packet of good quality, ready made meringues in the cupboard to team with light yogurt and a few berries for an instant healthy dessert.
Products with a long shelf life, which are useful for putting a healthy, low calorie meal together quickly, include:
dried porcini mushrooms
sundried tomatoes
olives
air dried ham like Prosciutto
tins of borlotti and butter beans
chickpeas
tinned salmon and tuna
Choose tinned fruits and tuna packed in water and not in syrup or oil. If a recipe calls for nuts, try walnuts. They are among the lowest in saturated fat.
Meat and Poultry
Red meats, such as lamb, pork and beef are high in saturated fats, but chicken and turkey contain far less fat. Remove the skin before cooking and trim off any visible fat. Avoid sausages, burgers, pates, bacon and ready minced beef. Buy lean cuts of meat, and steak mince, and skim any fat from the surface of stocks and stews.
Processed meats like salami and hot dogs are generally very high in fat. Look for healthier - and much leaner - vegetarian versions.
Replacing Fats and Oils
In baking, you can reduce the margarine or butter content by using the equivalent weight of apple sauce or half and half apple sauce and buttermilk.
In place of oil in marinades and salad dressings, use stock or unsweetened pineapple juice.When sautéing meat or poultry, instead of 2 tbsp oil, use 2 tbsp stock or unsweetened pineapple juice or dry wine. You can experiment with other unsweetened juices.
Breads
Go for wholemeal breads, which contain all the nutrients of the whole grain. Bread is one of the most nutritionally balanced foods we can eat and is an easily digested source of fibre and energy. It is not particularly high in calories and is healthy, especially if eaten instead of fatty or sugary foods.
You might also like...