Best Shopping Choices for Low Calorie Recipes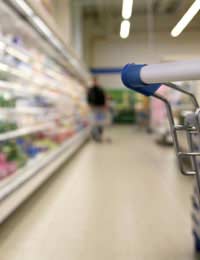 No-one wants to go through life counting calories, although it is a good way of checking that we are getting enough of the right kinds of food.
It is much better to get to know the calories and fat content of foods up front, so that shopping for healthy food becomes second nature to you. If you regularly stock up on the best and healthiest low calorie, low fat ingredients to start with, chances are your daily diet is going to be a healthy one.
What's the Secret?
Variety is the secret of a healthy diet. Because low calorie foods cover such a wide range, with a bewildering choice of delicious vegetables and lean foods, and tempting ways to cook and present them, there is no excuse ever to be bored with healthy food. If we eat at least five servings of fruit and vegetables a day; that encourages us down a low calorie, healthy route. Add to that the two servings of lean proteins we should have daily, and essential starchy foods like bread, cereals, rice and pasta, and your food intake is never going to be boring.
Checking the Labels
You need to check fat content as well as calorie content on labels. Physically we couldn't exist without eating some fat, but we have to be careful not to eat too much of the fat which is bad for us, the saturated fat found in animal produce like red meats, butter and cheese.
We should limit our intake of saturated fats to less than 10 percent or less of our total daily calories. Around 20 percent should come from so-called 'good' fats found in unprocessed foods like nuts and seeds, olives, avocados and oily fish.
Your Shopping Trolley
Try to become familiar with the broad calorie and fat values of the basic foodstuffs that you put in your shopping trolley. Here are some useful shopping guides.
Biscuits - Biscuits, like other treats, are fine from time to time, but bear in mind that one shortbread finger will cost you 100 calories and 5.5 grams of fat. A plain rich tea biscuit has 40 calories and 1.4 grams of fat.
Bread
- Bread is a better bet for your health because it is a balanced food that will satisfy your hunger for longer. Wholemeal is the healthiest and tastiest at 61 calories and 0.7 grams of fat for a 28 gram slice.
Cereal
- It is very important to start the day with a good breakfast and cereal is still one of the healthiest ways to achieve that. A 28 gram serving of cornflakes is 105 calories, with only 0.3 grams of fat. A crunchy cereal with fruit and nuts has 125 calories for 28 grams, but a sizeable 5.5 grams of fat.
Remember that children need more fat and are much more likely to burn the it off.
Cheese
- There is a huge choice of cheeses, but broadly speaking you need to opt for low fat or very low fat varieties if you seriously want to cut calories. Hard cheeses like cheddar have high fat contents - 116 calories and 9.8 grams of fat for 28 grams - but they do have half-fat varieties.
In recipes you can make use of half-fat mozzarella (55 calories and 3.2 grams fat per 28 grams); low fat soft cheeses (typically 50 calories and 4 grams of fat ); or no-fat fromage frais (14 calories and 0.2 grams fat).
Cream
- The delicious clotted cream that tops strawberry scones is a hefty 165 calories and 17.8 grams of fat per 28 grams. Half fat crème fraiche has 47 calories and 2.8 grams of fat; and half fat cream 40 calories and 3.8 grams of fat.
Fats
- Butter has typically around 206 calories and 23 grams of fat for every 28 grams of weight. Margarine is not much different at 204 calories and 22.6 grams of fat. Low fat spreads have some 106 calories and 11.3 grams of fat.
Fish
- White fish like cod and haddock are low in calories and fat - 21 and 0.3 for cod and 20 and 0.2 for haddock for 28 grams of weight.
The values for oily fish like tuna, sardines and mackerel are two and three times more but are rich in the 'good' fats we need.
Fruit
- Most fresh fruits are low calorie and have almost no fat content, with the exception of a few, including avocados and some dried fruits. They are all packed with important nutrients and vitamins.
Meats
- Buy the leanest cuts of beef and pork - they will be lower in calories and fat content - and use the healthiest methods of cooking them in your recipes. Chicken and turkey are low calorie, low fat foods and are among the healthiest proteins.
You might also like...