The 'Good' Fats that your Body Needs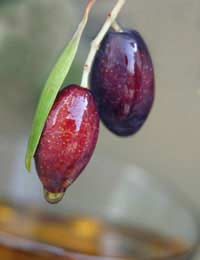 The role of fat in our diets is often misunderstood and many people believe that it has no place in a healthy eating, low calorie lifestyle. In fact this is not the case. Fats are an essential part of our diet, a principal source of energy. They also play a vital role in bodily functions. However, an excess of the wrong kind of fats, the saturated fats, can be harmful to our health in the short term and later in life.
The typical Western diet is high in unhealthy saturated fats, but fortunately in recent years things have started to change for the better. We are becoming much more aware of the health implications and more people are striving for a healthy balance.
The Fatty Acids
All fats contain a mixture of different fatty acids. These are saturated fatty acids, which come mainly from animal fats, and are solid at room temperature (for example, butter and lard); and unsaturated fatty acids which come from vegetables (such as olive oil) and fish oils, and are generally liquid at room temperatures. There are two vegetable oils that are rich in saturated fats, however - coconut and palm oil.
An excess of saturated fats can lead to a harmful increase of cholesterol in the blood, and too much cholesterol can create a risk of heart disease, especially if your diet and health are already poor.
Essential Fats
There are two 'essential' fatty acids important to health that we need to get from our food. Good sources of these are all unsaturated vegetable oils such as sunflower and soya bean. If an oil is labelled 'cold pressed' or 'virgin' it has come from the first pressing, which is carried out at a low temperature. This oil is of better quality and this distinction is important with olive oil which is graded according to acidity. Extra virgin olive oil is considered the best.
Current medical thinking is that 30-35 percent of all our calories each day should come from fats. The record high rate of heart disease in the United Kingdom is due largely to too much saturated fat, mostly from margarine, butter, cooking fats and oils, meat, milk, cheese, eggs and from 'hidden' fats in cakes, biscuits and crisps.
How to Reduce Fats
Firstly we need to aim for a moderate intake of fats and to cut down seriously on saturated animal fats.
Cut down on high-fat meats (such as sausages, bacon, lamb chops and minced beef), dairy products (especially cream and hard cheeses), eggs, peanuts and peanut butter.
Buy lean cuts of meat for your recipes and trim visible fat. The flesh of poultry has little fat, but the skin is fatty and should be removed before sautéing, grilling or casseroling and after roasting.
Eat more fish. White fish is low in fat, and oily fish such as herring, mackerel, trout and salmon are rich in an unsaturated oil, not widely available in other foods, which helps to prevent heart attacks.
Choose cottage cheese, Camembert, Brie and reduced-fat cheeses in place of fatter varieties like Cheddar and Stilton. Substitute skimmed and semi-skimmed milk in recipes and for drinking. Use yogurt or a low calorie crème fraiche instead of double cream.
Use butter, margarines and even low-fat spreads sparingly. Only use soft margarines labelled as being high in polyunsaturates. Other margarines can go through heat or chemical processes which harden and saturate the oils.
Use less cooking fat, oil, salad oil, mayonnaise or other high-fat salad dressings and sauces.
Avoid fried food. Use low-fat cooking methods such as grilling, roasting, stewing and baking. Steam or boil where possible.
If you do fry chips or other foods occasionally, cut them into larger pieces. Drain off as much fat as possible after cooking and pat off excess oil with kitchen paper. Never re-use oil. Reheating it makes it saturated.
Always skim any fat off the tops of casseroles, curries, soups and stews before serving.
Try to have chocolate, cakes, pastries, biscuits and crisps only occasionally.
That 'Full' Feeling
Don't forget that most foods contain at least some fat, including most vegetables, cereals and even fish. It is fat which provides the body with the satisfied full feeling we get after a meal. Without at least 10 percent fat, we may be eating lots of vegetables and fruits that are good for us, but it is unlikely we would ever feel really full.
Work out what your average daily fat intake is by bearing in mind that there are 9 calories for every gram of fat consumed. If a modest food serving of 90 grams contains 270 calories, but has 12 grams of fat, that means it has 108 calories which are put fat. This is certainly not a low-fat food. Following some of the tips above will ensure a much healthier relationship with fat in foods and recipes.
You might also like...