Low Calorie Foods to Eat More Of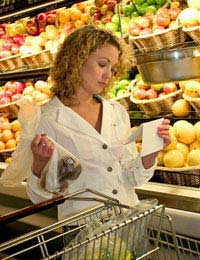 It makes sense if you are embarking on a low calorie lifestyle, that you should stock up on foods, flavourings and condiments that allow you to have the healthiest products to hand at all times.
Smart Shopping
Keep a supply of wholegrain bread (which freezes well) and whole wheat pita bread. (These are both low in calories and fat content.)
Buy bottled water, with zero calories and fat.
Buy vegetable juices, 46 calories a glass, 0.2 grams of fat - and they are packed with vitamins.
Weight-Friendly Substitutes:
If you usually buy regular lemonade at 99 calories a glass, substitute artificially sweetened lemonade at 5 calories.
For wine at 103 calories for 5 oz, substitute wine spritzer at 62 calories.
Calcium-Rich Cheese
True, cheese is a good source of calcium, but it can be as high or even higher in fat than meat. You find it everywhere, from sandwiches and sauces, to pastas and pizzas; all the more reason to make healthy substitutions where you can.
Buy fat-free and low-fat versions of cheese and cheese spreads, which are still good sources of calcium. Aim to keep some of the following:
Low-fat or fat-free mozzarella for pizza, lasagna and other Italian dishes.
Fat-free cottage cheese - for salad dressings and dips use the cheese as a thickener or substitute for sour cream.
Fat-free ricotta cheese for baked dishes.
Weight-Friendly Substitutes:
Use fat-free cottage cheese or yoghurt to extend a small amount of strong-flavoured cheese such as blue cheese, feta or cheddar.
Substitute reduced fat or fat-free cheese for full-fat in favourite recipes. These cheeses will melt better if you layer them with other foods or cover the dish while it is baking.
Dining out on pizza, skip the double cheese option and ask for extra vegetables.
Chicken and Turkey
Don't let added ingredients or high calorie side dishes wipe out the health benefits of chicken and turkey.
Buy boneless and skinless chicken breasts or turkey cutlets.
They are best accompanied by pasta, grilled or steamed peppers, mushrooms, courgettes and green beans.
Weight-Friendly Substitutes
Chicken and turkey are often interchangeable with other meats.
Use minced turkey to make burgers and chilli.
Grill chicken burgers instead of hamburgers.
Condiments to Make Meals Lean
The products we add to dishes for flavour and texture can sometimes add fat too if we are not careful.
Buy fat-free or reduced-fat mayonnaise - for extra flavour stir in some minced garlic or onion.
Margarine or light spreads made with olive oil.
Mustards - low in calories and almost no fat - adding intensity of flavour.
Low fat tartare sauce and horseradish.
The best strawberry or raspberry preserves - but use only a little.
Lower calorie fruit butters.
Chunky salsas and sweet pickle relish, low in calories and with no fat.
Margarine-like sprays - no calories or fat for the tiny amounts used.
Lean Desserts
Prepare low calorie, low-fat desserts from scratch and stock a variety of staples.
Whole-wheat flour and oatmeal.
Low-fat or fat-free dairy products (you can substitute fat-free evaporated milk and buttermilk for cream)
Naturally sweetened fruit spreads and apple sauce
Sugar substitutes
Frozen yogurt, sorbets and low-fat or fat-free ice creams
Vanilla wafers
Low-fat, sugar-free biscuits
Weight-Friendly Substitutes:
Instead of apple pie try baked apple stuffed with an oatmeal and brown sugar mixture
An apple flan - sliced apples topped with orange juice and baked until tender
Fresh apple and reduced-fat cheddar cheese slices
In baked desserts, replace up to half of the fat with an equal amount of fruit puree such as apple sauce
Experiment with plain yoghurt in place of butter or margarine in muffins
Use fresh fruit, or tinned fruit in natural juice rather than syrup
Lean Fish
Compared to other sources of protein, like meat or cheese, fish is relatively lean. The trouble arises when fish comes wrapped in batter, buttery sauce or a high calorie coating.
Keep a stock of canned fish. Water-packed tuna has 53 fewer calories and 5.3 fewer grams of fat than oil-packed tuna.
Frozen fish - grilled with some lemon and herbs you can serve a whole variety of fish without adding fat or calories to the dish.
If you can afford it, have shrimp, lobster or crab. They are higher in cholesterol than most other types of fish, but they are rich in other nutrients. Ten large grilled prawns have just 54 calories.
Weight-Friendly Substitutes:
Fat-free salad dressings double as interesting fish marinades. Give the fish an hour in the fridge to absorb the flavour.
Tomato-based and fruit-based salsas are excellent additions to grilled fish fillets. Make a chunky salsa by stirring together chopped mango, orange or tangerine chunks, kiwifruits, chopped spring onions and a dash of chilli powder.
You might also like...