Low Calorie Christmas Treats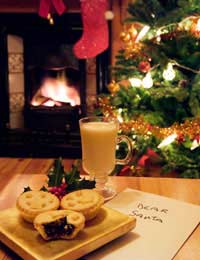 A successful low calorie diet must become a way of life that's practical, easy and effective. During the festive season, this seems to be really tough. Most of the treats we associate with Christmas are packed with calories, fat and sugar.
There's no need to despair, there are ways to adapt your favourite treats in a way which means you can still enjoy the flavour but cut down on some of the calories. Some treats may need to be avoided all together but you don't have to look far to discover delicious, low calorie alternatives.
Mince Pies
They are relatively small in size but mince pies are packed to their pastry lids with calories. Calorie counts vary between different brands and homemade pies but the average count is from 350- 450 calories!
Get rid of the fatty, short crust pastry and replace it with the much healthier choice of filo pastry.Filo pastry is sold in most supermarkets.
Start by defrosting the pastry, according to instructions and cut rounds from the sheets.
Lightly grease a muffin or tartlet tin and arrange a few layers of filo into the hollow, creating an attractive, leafy effect. Use low fat oil spray between layers. Add a small amount of mincemeat to each tart.
Place in a medium- hot oven and bake until golden. When cooled, lightly dust the tarts with a little icing sugar.
Each tart will contain around 100- 150 calories but don't forget even this count will still add up quickly if you over-indulge.
Savoury Treats
For a delicious breakfast treat at Christmas, try serving smoked salmon blinis. Blinis are tiny pancakes usually served with a savoury topping.
Warm the blinis through and spread each pancake with a little low-fat cream cheese. Top with a good curl of smoked salmon or small dot of smoked fish roe.
Based on four blinis per person, you are only serving around 150 calories, a very respectable calorie intake for breakfast.
After a good Christmas meal, you may wish to serve a cheese board, which can be disastrous for calories. Instead of choosing cream crackers or digestive biscuits, select oatcakes instead. These usually average no more than 45 calories.
It's no good enjoying the cheeseboard if you can't enjoy the cheese, so pick goat's cheese. It's usually very rich and flavoursome with a dramatically lower calorie and cholesterol count so it's your perfect choice.
It's also worth bearing in mind, that supermarkets are now stocking an ever-growing range of delicious reduced fat cheeses.
Christmas Cheer
Most people enjoy a festive drink but this is another pitfall for the low-calorie dieter and the counts add up dramatically.
The best way to avoid blowing your diet is to choose your tipple wisely. To keep the calories low, don't choose beer and lager and most importantly, avoid the creamy spirits and liqueurs that we particularly associate with Christmas.
Instead, chose low-calorie mixers like tonic water with spirits such as vodka and gin. If you want to drink wine, turn your glass into a longer drink by adding low calorie lemonade or tonic water.
Low Calorie Treat Tricks
There are some really simple festive fixes that should help you with your low calorie mission:
Instead of nibbling mindlessly on chocolates, try choosing sweet treats that are kinder to your waistline. Pick goodies like marshmallows, jelly beans and fruit pastilles. Don't forget, nature provides her very own sweet treats that are ideal for Christmas- satsumas, figs and dates. Intensely sweet, you won't have to eat too many of these to get your sweet fix.
Nuts needn't be off-limits. They are undoubtedly high in calories but incredibly nutritious and if you eat them in moderation, they are a good healthy choice. Try limiting the amount you eat by serving the nuts in a bowl, unshelled with a pair of nutcrackers to hand. Fiddly to shell, you will definitely eat less as a result. Chestnuts are lower in calories than other nuts, so they make a good choice too.
Don't miss out on the Christmas cake but make sure your slice is smaller. Peel away the marzipan and icing so you can enjoy the cake on its own. Just doing this makes a huge calorie saving.
Don't forget to treat yourself this Christmas, it's a time to enjoy and spoil yourself. Follow some simple and sensible ideas to keep a lid on the calories and not your enjoyment of the festive season.
You might also like...