How to Avoid Temptation When Food Shopping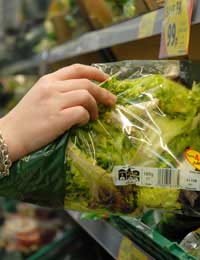 It's far easier to simply not buy tempting treats at the supermarket rather than have delicious biscuits, cakes and crisps in the cupboard and have to stop them winking at you.
But how do you avoid temptation in the supermarket? Here are a few practical tips to stop you piling your trolley up with all those high-calorie goodies that will do nothing for your waistline.
Write a Meal Plan
Planning your weekly meals is a great way to avoid temptation in the supermarket because you will not be so susceptible to impulse purchases.
Many people find that Sunday night is a good time to plan your weekly meals, although you can do it on a rolling weekly timetable throughout the month if you're really organised. Once you have your weekly meal plan, you can write a shopping list that will ensure you have all you need for the week.
Don't Browse
It's not a good idea to go to the supermarket when you have loads of free time as it makes it all too easy to browse through all the tasty but fattening products. If you give yourself a set time to do the shopping or fit it in between appointments, you're more likely to stick to your list and not add in extra goodies.
Shop Online
Online grocery shopping is the perfect way to stop unnecessary treats from slipping into your trolley. Again, stick to your list and review your order before you press that all-important confirmation button.
Wear Tight Jeans
This may sound like a ludicrous suggestion, but there is nothing more likely to stop you from buying fattening treats at the supermarket as the feeling of a tight waistband on your jeans. If you just wear tracksuits with elasticated waistbands you'll never appreciate the potential damage the chocolate biscuit aisle can do.
Have a Healthy Snack
We've all heard the one about not going supermarket shopping when you're hungry, but did you know that what type of snack you have makes a difference too? If you've had a white refined carb-laden snack before you shop you're more likely to be tempted by other such sugary treats, but if you've been virtuous with your snack, you're more likely to buy healthier food. Good pre-shopping snacks include rice cakes with a little peanut butter or protein-rich foods like chicken or turkey slices.
Go to a Rubbish Supermarket
Again, you may think this is foolish, but it makes perfect sense. If you think about those delightful supermarkets that are filled with delicious treats, tasty ideas and an in-house bakery, isn't it more likely that you're going to see things that tempt you? Whereas a supermarket that doesn't inspire you so much is more likely to support you in your quest to stick to your shopping list.
Walk to the Supermarket
This one is a double whammy. Not only are you fitting in some exercise with your walk to the supermarket, you'll have to keep your purchases to a minimum in order to carry the whole lot home again. Are you really likely to want to carry big two litre bottles of fizzy drink all the way home?
You might also like...