A Mum's Solution to Teenage Food Angst: A Case Study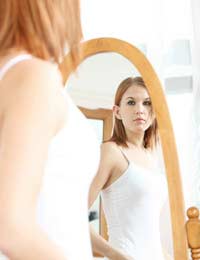 When Lisa saw her 14-year-old daughter, Penny, start to spend more and more time on her appearance, it reminded her exactly of her own teenage years.
As the weeks passed, however, she became concerned that her normally self-assured daughter was becoming increasingly critical of her looks and even more noticeably, that she seemed to be losing her appetite. Penny's normally cheerful confidence was fading.
Making the Link
'I somehow knew these things were linked', Lisa explains. 'Penny and I are close and this was not just typical teenage behaviour; it was very personal. At first I felt panicky. I have read enough about eating disorders to know how they can start and I was so worried that this could be happening to my daughter.
'Once I got over my initial reaction I decided to act to stop things getting out of control. I had a real heart to heart talk with Penny.
'I didn't lecture her but tried to find out what was bothering her. It was all the usual teenage things - she wasn't thin enough or pretty enough and wanted to be one of the fashionable crowd who could fit into impossibly small clothes. We had tried to encourage values in the children which were not superficial so I hoped this was just a temporary reaction to some peer pressure.'
A Few Home Truths
Lisa reassured her daughter that she was a healthy weight and size for her age. 'I even got out the measuring tape and, because Penny is tall for her age, it turned out her measurements were even less than average for her height. All the more reason why she should not consider losing weight or inches.
'I explained that maintaining what for her was a healthy weight ratio for her frame, rather than losing weight, would be the most attractive solution. I promised that I would make sure she had nothing but healthy, low calorie food to keep her in good shape. She could stay slim without having to starve her body or suffer the very serious health risks of eating disorders.'
Steering Clear of Bad Attitudes
'I think the fact that Penny felt she was constructively doing something to make the most of her appearance, helped steer her away from the destructive attitudes she had flirted with.
'For me it was almost like returning to a time when the children were small and when I had the biggest say in what they would be eating. Penny returned to eating much more of the fresh food I had always tried to provide; she rediscovered her liking for vegetables and fruit and stopped eating takeaway snacks of chips and burgers. Pastas and salads, baked potatoes and lean meat, fish and chicken dishes were all on her approved list, and she was eating sensible portions. She was filling up on healthy snacks and giving high sugar treats a wide berth.
'What she was not doing was missing meals or going hungry. Yet because she was so aware of the healthy content of her diet, she was confident that she wouldn't put on weight, which was the root of her concern.
Learning About the Bonuses
'The bonuses when they came along really brought smiles to Penny's face. For a start, within a few weeks, she realised that she had more energy. Eating more of the right kinds of foods meant she was constantly topping up essential levels of vitamins and minerals and she really did have energy to spare. Before long she was fitter, walking and exercising more, and also concentrating better at school. She was finding it all hard to believe.
'A month or two later she found an unexpected bonus which probably meant most to her. She came rushing in from school, all smiles, and said 'Guess what Mum? At lunchtime me and my friends were all voting on who has the best legs, the nicest eyes and everything - and they all thought I had the best skin and complexion. Can you believe it?' '
Spotting the Warning Signs
Lisa has related her experience to friends with young families, because she really believes that picking up on the warning signs so early is what enabled her to help Penny avoid problems.
'I feel lucky and relieved that we got past this; and happy that my daughter seems to have regained a healthy attitude to her appearance.
'She continues to have a good store of energy; and I have high hopes that some of it will be used up any day now on tidying her room'.
You might also like...