I Changed How I Thought About Food: A Case Study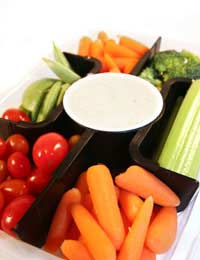 It's fair to say that many of us have, or have had at some point in our lives, a difficult relationship with food.
For some, it may be that we love the good life and simply enjoy too make long luxurious meals with wines and liqueurs, for others it can be that food is a source of frustration or comfort. There are as many complications with our emotional relationship with food as there are people, so there is no one way to help people have a more measured attitude to what they consume and how it makes them feel.
Learning from the Past
For Beverly Simon, a 37-year old stay at home mum, her unhealthy relationship with food and it's painful physical manifestation has been an issue for many years.
Beverly was a chubby child having been brought up by a mother that loved to cook and show her affection for her children by making their favourites treats, often including big roast dinners and steamed puddings with lashings of custard. By the time Beverly started university, she was four stone overweight and very unhappy with her appearance.
Beverly told us, "To be honest, I don't feel as though I was ever taught to have a healthy relationship with food – in our house it was used as a way to feel loved, so if we were ill or had an important exam, it would be about food. A biscuit to sooth or a big takeaway to relax. As soon as I got to university, I realised just how little I knew about cooking good food and nutrition."
As often happens when young people start university, they drink too much and eat rubbish and Beverly was no exception. "I didn't know how to feed my body and my brain – all I knew was how quick it was and how cheap it cost. Consequently, I put on another stone in my first time and found it really hard to study as I was having such sugar highs from all the booze and rubbish I was eating."
Ask a Friend
Beverly spoke to a friend who was training to be a dietician and asked for some advice as she was concerned about how overweight she was and how hard she was finding it to concentrate on her studies. She was advised to eat fresh, raw foods as much as possible and to cut out refined sugars and white carbohydrates.
Beverly explained, "I had never considered the actual food that I was eating – the calories, the protein, the sugars and so on – so it was a real wake up call. The first week was really difficult because I had so many bad habits, like eating four rounds of peanut butter on buttered white toast for breakfast with a sugary cup of tea. My friend explained how this was giving my body a real shock, making my blood sugar level go through the roof and crash back down just in time for the end of my first lecture – it's no wonder I used to fall asleep so often and miss the important facts!"
Changing Habits
Beverly changed her eating habits by stocking up on cheap, tasty ingredients that she could still cook quickly, such as tinned fish, rice cakes and brown pasta. She also learnt how to make her own tomato sauce with cheap tinned tomatoes, dried herbs, onions and garlic, which she made in large volumes and used over whole wheat pasta, on sweet potatoes and with grains such as quinoa. She lost three stone over the next eighteen months and has been able to keep it off by generally sticking to the rules of fresh, healthy foods with no processed meats or white carbohydrates.
Beverly concluded, "It may sound strange, but sometimes it was really easy to stick to and other times I just craved a big, stodgy pudding. I realised that when I was stressed or unhappy I still thought of food as a comfort. I tried to carry on eating healthily at those times, but I do still find that chocolate hits the spot – although I try to have a couple of squares of good quality dark chocolate instead of a family bar of cheap milk chocolate!"
You might also like...