Eating Low Calorie Meals Improved My Health: Case Study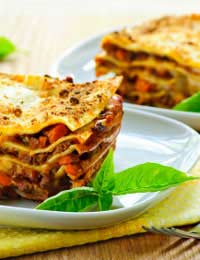 When Jillian Payne, 34, realised that all her favourite clothes were too tight, she decided to go on a diet. With two small children and a part-time job as a teaching assistant, not to mention a love of good food and cooking, she didn't want to go down the 'steamed vegetables only' route.
So Jillian devised her own way of cutting out calories. She explained, "I hadn't really noticed that my weight crept up because I'm always rushing around doing something. It was only when I tried on my favourite little black dress to go out for dinner with my husband that I realised I couldn't do the zip up! It was a rather depressing moment because I didn't have anything else suitable to wear when I looked at my other clothes. I didn't fit into anything nice and it dawned on me that I'd been living in black trousers (with an elasticated waist!) and a fleece for months."
Turning Point
This rather unfashionable realisation was a turning point for Jillian. She decided to weigh herself. She made a note of her weight and, after convincing her husband that they should go to a Japanese restaurant instead of indulging in their usual Thai creamy curry, made a promise to lose the two stone she'd gained. She was also convinced that her aching knees would benefit from a little less weight to carry around, as well as her difficulty sleeping after a heavy meal.
She continued, "I've always loved cooking and I find it a great way to relax after a hectic day, especially as I know I'm giving my family a healthy home-cooked meal. I didn't want to stop us all eating together round the table as I think this is a really important part of the day, so I looked at my normal repertoire of meals and worked out ways to make them lower in calories."
Ideas to Cut Calories
With Jillian's usual weekly meal plan including family favourites like lasagne, chilli con carne and roast chicken, she explained how she cut calories without losing taste.
"For the lasagne, I added in loads of extra vegetables to the sauce and cut right down on the mince, which I dry-fried instead of using oil. I used brown lasagne sheets and make the white sauce with skimmed milk. I also added nutmeg and mustard to the white sauce and just put parmesan on the top, rather than in the sauce too. It's actually even more delicious! With the chilli, I now add in a tin of cooked lentils and a couple of grated carrots and serve it with boiled rice rather than the tortilla chips we used to have. I also use fat-free natural yoghurt instead of sour cream. For my roast chicken, I take off the skin and rub the meat with rosemary and thyme instead, which is really yummy and saves heaps of calories. I cut the roast potatoes far bigger than before too and just use a little olive oil and stock to roast them."
After six months on this new regime, Jillian is well on the way to losing the weight. The benefits are clear already though, with her knees no longer causing any problems and she also has lots more energy.
She concluded, "I sleep so much better after I've had a lighter meal and my family have really noticed a difference in my stress levels. What they haven't noticed though is the fact that they're eating more healthily too!"
You might also like...