I Lost Two Stone Without Dieting: A Case Study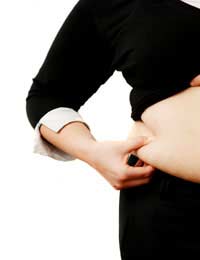 As Lorraine Custis, a 42 year-old primary school teacher from north Norfolk, had been overweight all of her adult life, she'd lost hope that she would ever fit into a pair of size twelve jeans.
Lorraine tried loads of different diets – the cabbage soup diet, the Atkins diet, food combining, the F-plan – and only ever lost a bit of weight and put it all straight back on as soon as she started eating normally, but it was only when she made the decision not to diet any more that she actually lost weight.
Falling Off the Wagon
Lorraine told us, "I just didn't know how to eat sensibly, so I had a really mixed up relationship with food. When I was on a diet I'd get all fired up, buy all the proper books or ingredients and stick to it for a week or two, then I'd have a party or even to go to and fall off the wagon. Once that happened, I'd think 'I might as well not bother' and stuff myself with everything in sight."
The one time that Lorraine did lose weight successfully, she found that it took over her life too much and changed her character. "I went to Weight Watchers meetings for about six months and I did actually lose nearly two stones, but I found that the recipes and point counting didn't really suit me. I know a few people who've found it really easy to follow, but I still felt restricted. All the weight came back on as soon as I stopped going to the meetings. My light bulb moment was when I realised that I wanted to lose weight without dieting. I realised that my attitude was the problem."
Lorraine's Own Healthy Eating Plan
Lorraine decided to devise her own 'non-diet diet' by bringing together all sorts of rules and ideas that she'd learned from the various diets that she'd followed. She continued, "I was pleased to have a use for all those diet books I had gathering dust! I read through the books and wrote down the parts that I'd found most helpful and easiest to stick to without feeling restricted. I realised that I was happy to reduce my intake of carbs, but really didn't want to miss out on a glass of wine every couple of days. I also knew that I was able to snack on fruit, but found it easier to make an evening meal that the whole family could enjoy, rather than weighing and measuring just for me and seeing them tuck into a nice Cottage Pie."
The Whole Family Benefits
This idea meant that Lorraine was able to stick to her new 'eating plan' because it was devised to match her exact requirements, strengths and weaknesses. As a result, she has been steadily losing weight at a healthy rate of around one to two pounds a week and she's nearly lost two stone and now fits into those size twelve jeans! Another benefit is that Lorraine's family have been enjoying healthy, tasty meals made from scratch every night, giving them plenty of time to talk as a family and understand a good, balanced diet.
You might also like...