How to Use Herbs and Spices in Cooking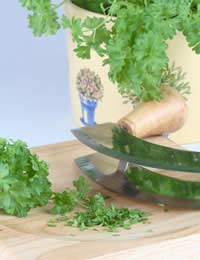 Simply adding herbs and spices when you are cooking can lift a dish out of the ordinary. Experimenting with both will let you identify your favourites and develop unique personal recipes. Even a supermarket tub of basil or chives at your kitchen window will open up the possibilities.
Spices in powder form should be bought in small quantities because they lose their aroma quickly. Ideally buy whole spices, like nutmeg, to grate freshly each time; or whole seeds where you bring out the flavour by crushing them.
You can heat crushed spices in a dry pan for a few minutes to release their flavour. This works well for cumin, coriander, fennel and cardamom seeds. Sesame seeds are delicious toasted lightly in a dry pan or under a hot grill, taking care not to burn them. Spices added to marinades allow delicious flavours to be absorbed by meats, poultry and fish.
Herby Stuffed Tomatoes
Thyme, combined with breadcrumbs, olive oil and flat leaf parsley, makes a fragrant stuffing for this low calorie recipe, ideal in summer when tomatoes and herbs are plentiful and at their best.
Preheat the oven to Gas mark 4 (180 degrees C).
Ingredients (serves 4)
1 shallot or small onion, finely chopped
3 tbsp chopped, fresh flat-leaf parsley
1 tsp chopped fresh thyme
60 grams dried breadcrumbs
30 ml olive oil
4 beefsteak tomatoes
salt and freshly ground black pepper
Mix together the onion, parsley, thyme, breadcrumbs and olive oil. Slice the tops off the tomatoes and set aside. Scoop out the seeds with a teaspoon to make a cavity for the stuffing. You will not need the inner flesh of the tomatoes but you can use it in a salad, soup or sauce.
Season the inside of the tomatoes with salt and black pepper. Spoon in the stuffing, stand the tomatoes in a greased ovenproof dish and replace the tops. Cook in the oven for about 15 minutes or until thoroughly heated through but not collapsing. Serve warm or cold.
Cauliflower with Coriander
This is a low calorie way to make cauliflower more interesting without a high calorie sauce. The vegetable retains its crunchiness and flavour.
Ingredients (serves 2)
1 small cauliflower
half an onion, finely chopped
1 level tsp whole coriander seeds
1 small clove of garlic
2 tbsp olive oil
a little butter
salt and freshly milled black pepper
Prepare the cauliflower by separating it into fairly small florets, including the stalk. Wash and drain until dry. Heat the oil in a large frying pan and soften the onion in it for 5 minutes. Meanwhile, chop the peeled clove of garlic finely and crush the coriander seeds with a pestle and mortar (or use the end of a rolling-pin and a small bowl).
When the onion is softened, turn the heat up and add the cauliflower. After a minute or two, toss the pieces by shaking the pan, then add the coriander seeds. Continue cooking the cauliflower for about 5 minutes, seasoning it with salt and pepper. Finally add a small knob of butter and chopped garlic to the pan and cook for a further minute. By this time the cauliflower will have turned an attractive golden colour, still retaining some bite. Serve immediately.
Spiced Pears in Cider
Traditionally spices bring out the best in dessert ingredients. This low calorie recipe calls for really hard pears which will be cooked slowly over a long time, turning a lovely amber colour. Pre-heat the oven to Gas mark 0.5 (half) or 130 degrees C.
Ingredients (serves 6)
6 large hard pears
570 ml dry cider
110 grams sugar
1 vanilla pod
2 whole cinnamon sticks
1 level dessertspoon arrowroot
some toasted, flaked almonds
150 ml low fat cream or fromage frais
Peel the pears but leave the stalks on, then lay them whole in a large casserole. In a saucepan, bring the cider, sugar and cinnamon to the boil. Add the vanilla pod and pour all of the mixture over the pears. Cover the casserole and bake very slowly for about 3 hours, turning the pears over half way through cooking.
After the 3 hours, transfer the pears to a serving bowl to cool and pour the liquid back into the saucepan. Discard the vanilla pod and cinnamon sticks.
In a cup, mix the arrowroot with a little cold water till you have a smooth paste, then add this to the saucepan with the liquid. Bring to the boil, stirring till the mixture has thickened slightly to a syrup. Then pour it over the pears, allow to cool a little and baste each pear with a good coating of the syrup.
Place in the fridge to chill thoroughly, and serve sprinkled with toasted flaked almonds and low fat cream or fromage frais.
You might also like...