Recipes With Cream Cheese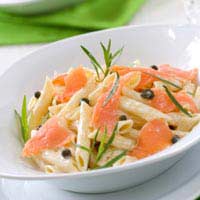 Many people think that cream cheese is one of life's rich luxuries and strictly off-limits for anyone following a low calorie diet. Not all cream cheese is the same though. There are many brands of cream cheese that are now low in fat, some less than 2%. Available as plain cheese or flavoured with herbs, low-fat cream cheese is a staple ingredient that adds a touch of creamy luxury to any dieter's menu.
Low-fat cream cheese is unbelievably versatile as a main ingredient or a component in all sorts of menus. Such is the popularity of this ingredient that entire recipe books have been devoted to all the culinary uses of low-fat cream cheese. Once you have a few basic ideas which demonstrate how versatile cream cheese can be, your low calorie diet will never be the same again!
Creamy Seafood Pasta (Serves 4)
A clove of Garlic
1 onion
6 rashers of Bacon
300g Pasta e.g. spaghetti, fettuccine.
12 Scallops
Cream cheese
Spinach
Start by finely chopping the onion and softening it until translucent in a hot pan using an oil mister. Add the finely chopped garlic.Now add the bacon and stir fry until cooked.
Meanwhile cook the pasta until al dente in a pan of lightly salted boiling water. To the bacon mixture add the scallops and cook for about 5 minutes until they are cooked through. Now stir the cream cheese through the bacon mixture and heat gently until the cheese melts to form a creamy sauce.
Drain the pasta and add it to the pan with the cheese sauce. If the sauce seems a little stiff, add a splash of the pasta cooking water to loosen the mixture. Combine the pasta and sauce thoroughly. At the end of the process stir the spinach through the sauce until the leaves are wilted and the dish is thoroughly mixed. Serve immediately with a fresh green salad.
Cheesy Jacket Potatoes.
Jacket potatoes are delicious with some creamy butter melting gently through the potato flesh. So if you are watching the calories, low fat cream cheese is a great alternative.
Bake a medium sized jacket potato. A good rule for selecting the right sized potato for your diet is choosing one that's about the same size as your fist.
When the potato is thoroughly cooked, leave to cool for a short while so it's easier to handle and scoop all the flesh gently from the skin with a spoon. Now mash the potato flesh with a tablespoon of low-fat cream cheese. You can add seasoning or herbs like chopped chives. Pile the mixture back into the potato skin and place under a hot grill. When it's brown and bubbling, it's ready to eat. Enjoy.
Saucy Stuff
Low- fat cheese makes an excellent base to create a whole range of delicious sauce and dressing recipes. You can add an endless variety of flavours to the sauce to suit the meal you're dressing. For example, tomato or pasta recipes benefit from a touch of basil or oregano. Chives are a good addition to cream cheese too. You can buy low-fat cream cheese in any number of varieties but if you are watching your calorie intake, flavour is paramount and nothing beats freshly chopped herbs. If you want to loosen the sauce, just add a splash of skimmed milk.
Low-fat cream cheese is also ideal as the main ingredient of salad dressing. Instead of adding skimmed milk, try adding lemon juice to create the right consistency. Finish your dressing with lots of seasoning and experiment with different herbs and flavour ideas.
If you fancy a dip like Tzatziki, add some finely grated or chopped cucumber and a tablespoonful of freshly chopped mint to the cream cheese. This makes an excellent dip or a delicious spread for some crusty bread or crackers.
Just Desserts
Low-fat cream cheese lends itself very well to sweet recipes too. Try combining the cream cheese with granulated sweetener to taste. Now you have an excellent addition to any bowl of fruit or fruit salad.
You can rustle up an impressive fruity dessert by adding some filo pastry. Filo pastry contains around half the fat of regular pastry but it's deliciously crisp and flaky. Bake with some fruit and a blob of sweetened cream cheese. Now you have an indulgent dessert which you can serve hot or cold.
The beauty of cream cheese is its versatility- sweet or savoury, a spread, a sauce or a dressing it can be used to make any of your favourite recipes extra creamy and indulgent. Make sure you have a carton in your fridge and you'll never be stuck for ideas.
You might also like...