Cooking Methods and Calories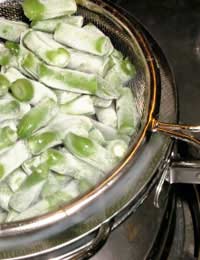 Not everyone realises that using low calorie food is only the first step to a healthy diet. How you cook the ingredients can have a marked effect on the final dish and the calories it contains.
Using the healthiest cooking methods is a good habit to get into if you want to keep calories down. A few basic pieces of equipment for your kitchen can encourage you to make healthy changes.
Low Calorie Steaming
A steamer is an essential item. You can buy an electric steamer; a saucepan with a steamer that fits on top; or the little expandable steamers used mainly for vegetables. Steaming is a gentle method of cooking that locks in the flavours, juices and colours of the food. It is a very easy, low calorie cooking method.
A pressure cooker gives the same results, but don't buy one if it is going to be used only once a year to steam the Christmas pudding.
No Need to Fry
Frying food is not usually necessary. Deep frying, in particular, pushes the calorie count of the cooked food to three and even four times that of a dish which is grilled, steamed, baked or dry fried. There are so many occasions when it is possible to grill or bake food as an alternative to frying, or at least to dry fry in a non-stick pan using only a spray of oil.
It's best to brush the meat, and not the pan, with a little oil and cook on a dry griddle pan. Stir frying on a high heat, with only a drizzle of oil, is another low calorie cooking method and a large lidded wok will be useful. Remember that any excess oil can be drained off from the finished dish before serving.
Poaching
For moist, flavoursome low calorie recipes, made with meat, fish or chicken, poaching is a useful and fat-free method of cooking. Poaching can be done on the hob or in the oven by covering the food with liquid and putting on a tight-fitting lid. Vary the liquid according to the main ingredient, using a mixture of stock or wine or cider, with water. Flavourings such as herbs, a bay leaf, some peppercorns, sliced onion, sliced carrot and a piece of lemon peel are all good. With white fish, a milk and water mixture, with added flavourings, is often used.
Baking
Baked food sometimes has to be brushed with a little oil or melted butter, and can be cooked uncovered or lightly covered. An excellent way to cook fish is by baking in the oven en papillote, or in parcels made of foil or baking parchment. This seals in the juices and flavours and, when the fish or chicken or other meat is cooked, the parcels are very aromatic and appetising to open. 'Parcels' made of pastry, on the other hand, would be very high in calories.
Oven Roasting and Pot Roasting
Roasting is usually reserved for meat and chicken, and, even with lean cuts, a certain amount of fat is produced in the cooking. For a healthy diet, make sure that you drain off the fat at some point during cooking and remove any skin from chicken before serving. When timing the meal, try to allow about 30 minutes for a joint to rest before carving. The meat will hold its heat until the rest of the meal is ready.
You can make a complete meal if you slowly pot roast a joint of beef. You need a large casserole which is both flameproof and ovenproof. A cheaper cut like brisket, pot-roasted with a selection of vegetables including onions, carrots, celery, swede and mushrooms, is full of flavour. After the meat has been seared in the pot, drain off any fat before returning the roast to the pot and adding the vegetables, stock, herbs and seasonings. Cover with foil and a tight-fitting lid and, when simmering point is reached, transfer to the centre of the oven (preheated to Gas Mark 1) and cook for about 3 hours.
You might also like...