High Calorie Foods with Leaner Alternatives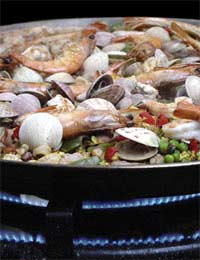 Do you ever have a longing for a favourite meal and change your mind because you are wary of piling on the calories - and the pounds? It is still possible to get the flavour of these high calorie foods, but from healthier alternatives, simply by 'tweaking' the recipes.
Cooking methods alone can reduce the calorie count of previously high calorie foods. Steam, bake, grill or stew where possible. When you use a frying pan use small amounts of olive oil or a spray oil. Use low fat or non-fat versions of spreads, yogurts, cheeses and milk. Trim fat off meat and poultry and increase the vegetable content of dishes.
Popular Paella
This Spanish dish, in its authentic form, is delicious but can be high in calories. Traditionally it is eaten on special occasions, but you can afford to enjoy it more often with this simpler, pared down, low calorie alternative, at less than 380 calories per serving.
Ingredients (serves 4)
225 grams cooked, smoked turkey sausage, cut into half-inch chunks
2 leeks, sliced thinly
450 ml chicken stock
1 cup uncooked, long-grain rice
half cup water
1 tbsp shredded fresh thyme, or 1 tsp dried thyme, crushed
a quarter tsp ground saffron
a quarter tsp paprika
225 grams peeled, cooked shrimp
3 plum tomatoes, deseeded and chopped
1 cup frozen peas
In a large pan or skillet combine sausage, leeks, stock, rice, water, dried thyme (if using), saffron and paprika. Bring to a boil and reduce heat. Simmer, covered, for about 15 minutes. Stir in shrimp, tomatoes, peas and fresh thyme (if using). Cook and stir gently for a further 2-3 minutes until heated through.
Speedy Omelette
Perhaps because they are quick to prepare, or because we always have eggs on hand, omelettes are a favourite light meal staple but can be a high calorie food. A typical mushroom omelette, with some fresh spinach added, works out at over 500 calories. With this much leaner alternative recipe you can more than halve your calorie consumption.
Ingredients (serves 1)
half slice whole wheat bread
half tsp olive oil
1 clove garlic, minced
3 large egg whites
1 tsp water
pinch salt
1 tsp margarine or butter
2 tbsp coarsely grated low calorie cheese (mozzarella)
1 tsp pesto
1 large tomato coarsely chopped
For the croutons, preheat the oven to Gas mark 2 ( 150 degrees Celsius). Cut bread into cubes and toss with oil and garlic in a bowl. Spread cubes in one layer on a baking sheet and toast 15-25 minutes until golden, turning once or twice. Cool on a plate.
In a bowl, lightly beat together egg whites, water and salt. In a medium, non-stick omelette pan, melt margarine or butter over medium heat. When it sizzles pour in the egg whites. Stir the eggs with a fork in a circular motion and when they begin to set spread them evenly across the pan. Reduce heat to very low. When top of the egg is almost set, sprinkle on cheese and dot with pesto. Scatter tomatoes and croutons over half of the omelette, fold the unfilled omelette half over the filling. Slide the omelette on to a warm plate and serve.
Macaroni Cheese
This delicious version of an old high calorie favourite uses low-fat milk and low fat and fat-free cheeses, keeping the count down to under 245 calories per serving. This is a low calorie recipe for adults and older children, but remember small children need full fat milk. They burn off calories just by growing!
Ingredients (serves 8, or 6 very hungry people)
250 grams macaroni
1 onion chopped
500 ml low-fat milk
2 tbsp cornflour
1 tbsp dry mustard
250 grams grated fat-free cheddar cheese
250 grams grated low-fat mozzarella cheese
salt and pepper
125 grams seasoned dried breadcrumbs
2 tbsp grated Parmesan cheese
1 tbsp butter, melted
Bring water to the boil in a large pot. Add the macaroni and cook for 5 minutes. Add onion and cook 5 minutes more until macaroni is almost al dente. Drain and set aside.
Preheat oven to Gas mark 4 (180 degrees Celsius). In a large pan combine milk, cornflour and mustard and stir until dissolved. Place over medium heat and cook, stirring, until thickened. Add cheddar and mozzarella cheeses and cook, stirring, until cheeses melt. Add cooked macaroni and season with salt and pepper. Pour the mixture into a baking dish. Stir breadcrumbs, Parmesan cheese and melted butter together in a small bowl and scatter over the macaroni.
Bake until bubbling (about 20 minutes) and serve hot with a salad.
You might also like...