Lower Calorie Christmas Dinners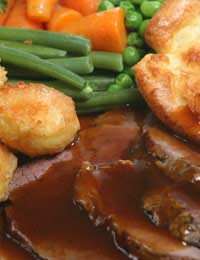 The annual Christmas feast is packed with calories but there are plenty of tips and tricks that ensure that you can maintain your low calorie lifestyle without missing out on the annual feast. There's no need to cook separate meals for the rest of the family, a Christmas dinner with fewer calories is something that the whole family can enjoy.
Turkey
Happily, turkey is much lower in fat than a lot of other meat options. To make sure you keep the calorie count low though, serve the turkey without skin. This will cut the calories by about 50%. During the cooking period, try basting the turkey with a little wine or rich stock instead of fat and oil.
Potatoes
Christmas dinner would be a disaster without delicious potatoes. Try these simple tips to keep the calories down:
Roast the potatoes from raw; this helps to reduce the calorie count by restricting the amount of fat the potatoes will absorb. Cook potatoes in their own roasting tray and spray with low-fat spray instead. For a deep, golden colour dust lightly with a little paprika.
If you are serving mash potatoes, avoid adding butter and cream. Swap calories for flavour by adding creamed garlic. You can also add a small amount of butternut squash. When butternut squash is cooked and mashed, it takes on a deliciously creamy texture that will add something special to your mashed potatoes.
Vegetables
There's little need to worry about the calorie contributions of vegetables themselves but take care over how you cook and serve them.
Use simple, steamed vegetables to 'bulk up' your Christmas dinner.
You can also fill up on traditional roasted vegetables. Parsnips and carrots become very sweet when roasted but don't add lots of oily calories.
Lay the prepared vegetables onto a roasting tray and spritz with plenty of low-fat cooking spray. Add cloves of garlic and chopped herbs to taste.
Bread Sauce
Whether you prepare your own sauce or use commercial products, make sure you don't add butter and full-fat milk. It's very easy to make your own bread sauce.
Pour around 473 ml/ 1 pint of skimmed milk into a saucepan and add a bay leaf and an onion studded with 5 cloves. Bring the milk to the boil and simmer gently for about 5 minutes. Leave the liquid to cool so the flavour can intensify for about an hour. You can then discard the bay leaf and onion.
Stir 100g of fresh breadcrumbs through the milk and simmer over the heat until thick and creamy. Season to taste and add a little nutmeg before serving.
Gravy
When the turkey is cooked, decant all the cooking juices and allow to cool while the turkey is resting. Separate the flavoursome juices from the calorie laden fat. This can either be done by cooling the drippings right down so you can skim the fat away or by using a fat separator.
Add just a small amount of the fat back into the roasting pan and blend in around two tablespoons of plain flour, stir and heat for two minutes to make sure the floury taste cooks out.
Gradually add the de-fatted turkey juices, making sure you thicken the gravy gradually. For extra taste, add herbs or a splash of red wine.
Watch out
Be careful, there are calories lurking everywhere in the Christmas dinner. Concentrate on filling up with skinless turkey, vegetables and potatoes.
It's Christmas, so don't feel guilty about reaching for the higher calorie treats like stuffing and pigs in blankets, just make sure you are mindful and limit the amount of these foods you eat.
Make sure you use plenty of herbs in your cooking to add lots of interest.
Think about serving your dinner on a smaller plate, this will help you to eat a smaller amount without feeling that you are missing out.
Christmas dinner most definitely stays on the menu for anyone following a low-calorie lifestyle. With a little forethought and a few tweaks, it will be as delicious as ever.
You might also like...