Low Calorie Party Food Choices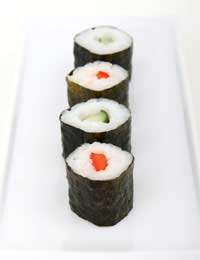 Nobody wants to be the Billy-No-Mates at parties, stuck in the corner with a healthy fruit platter and telling everyone how many calories there are in a banana Daiquiri. But neither do you want to undo all your hard work in watching your weight by stuffing yourself with half a dozen sausage rolls and a box of wine.
So, how do you get the balance right? How do you enjoy yourself at the party without bleating on to everyone else about what you can and can't eat? Follow these tips on what party food won't spoil your eating habits or ruin your social life.
Crudités
It may seem pretty obvious that those tasty platters of raw vegetables and salad are healthy, but if you start scooping them into sour cream or cheesy dips, you're soon adding a load of calories. Stick to tomato salsa or a little guacamole – although this is still quite high in calories.
Sliced Meat
This is a good low calorie choice as long as the meat is not processed types, like salami or chorizo. As a rule, the more 'natural' a product is the better, so simple slices of roasted pork, chicken or beef is best.
Sushi
Sushi is a great party treat because not only is it low in calories, but it's also packed with nutrients, thanks to the seaweed and fish. If you're looking to cut carbs as well as calories, limit how many pieces of nigiri sushi you have (fish-topped rice) and stick to sashimi, which is just fish.
Olives
The perfect party snack! Olives are great because they're low in calories, full of flavour and packed with good fats that keep your hair, skin and nails glossy. One word of warning though – sometimes olives are covered in olive oil, which is delicious but adds extra calories. If there is a choice, go for those in brine or put a few in a napkin to mop up excess oil.
Nuts
Although nuts are not a low calorie party snack, a handful of almonds or cashews is actually really filling. Just don't fall into the trap of standing next to the dish of nuts (or crisps) and taking handfuls through the night without realising how many you're eating.
Popcorn
Popcorn is a good choice as it's low in calories and relatively healthy, as long as it's not the toffee or butter coated sort. Mind you, with unpopped corn kernels being the third largest cause of broken teeth (after fights and granary bread, fact fans!) be careful that you don't spoil your night with a cracked incisor!
Drinks
Assuming you don't want to stick to water or diet drinks all night, the lowest calorie alcoholic drinks are champagne (or prosecco or cava) or a spirit with a diet mixer. Creamy cocktails can pack more calories than a dessert, so stay away! If you want a cocktail, choose spirit and fruit based drinks with soda rather than full-fat fizzy mixers. A really healthy option is a good and spicy bloody Mary – not only are you picking a low calorie drink, but you're getting one of your five a day, two if you get a stick of celery to stir.
Willpower
Remember that the more alcohol you consume, the more likely your resolve to stay away from the sausage rolls will weaken. Willpower is your friend at parties as not only will you save yourself hundreds of unnecessary calories, you'll also wake up without that heavy, guilty feeling that characterises a night of over-indulgence!
You might also like...