Low Calorie Takeaway Options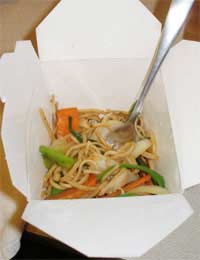 It can be hard to know what to choose from the takeaway menu when you are trying to keep to a low calorie eating plan, but watching your weight doesn't mean that you have to miss out on your takeaway treat.
Following these guidelines will help you choose the lower calorie options from your favourite takeaways, although it is worth bearing in mind that takeaways often add far more oil and fat that you would at home, especially in sauces and accompaniments.
Indian Takeaway
With chicken Tikka Masala as the nation's favourite takeaway, it will come as no surprise to know that we all love an Indian takeaway. However, the creamy curries and fried starters are totally laden with calories, not to mention saturated fats. So what can you choose when everyone is picking their favourite dish?
Most Indian takeaway starters are both delicious and full of fat! Bhajis, pakoras and popadums are all fried, so steer clear of these, but chicken Tikka (not Masala) is a grilled chicken starter that's relatively low in calories – just check that it's grilled and not fried when you order. You can also enjoy the onion salad that comes with it, as long as you don't add lots of sauce or pickles.
A good rule of thumb is to choose a tomato, vegetable or lentil based main course. Creamy curries are a terrible choice because the creaminess comes from butter, cream or ground nuts, all of which are terrible for the calorie conscious. Jalfrezi, dopiaza or dhansak curries are good choices. Make sure you ask for plain, boiled rice as pilau has extra butter or oil. Grilled naans are also OK, but share one and don't have rice too.
Chinese Takeaway
Most Chinese starters are fried, too. Spare ribs are fatty, fried and covered in sweet sauce, so they really are not good for you at all. Prawn crackers may be tasty but they're full of calories and don't fill you up, so stay away. If you want a starter, general soups are a good choice and steamed dim sum options are OK, as long as you don't pick large buns and keep to small dumplings.
For Chinese main courses, stick to lightly stir fried or steamed dishes and stay away from deep fried options like pork balls (the meat is often processed, too). Again, pick boiled rice and don't load your plate with the additional sauces that often come with a Chinese takeaway as you'll just be adding extra calories to your meal.
Thai Takeaway
The ubiquitous mixed starters that are available on Thai menus are usually a selection of fried items, so don't add this to your order. Again, soups are good, although go for hot and sour rather than creamy options. Thai salads are delicious and very low in calories as the flavour comes from chilli, lemongrass and lime leaves – all calorie free!Thai curries often rely on lashings of coconut milk, especially if you choose the classic green or red curries. A massaman curry has some coconut milk too. Hot and sour curries, tom yam or dry dishes are a better choice. As a rule, if coconut milk is mentioned, stay away!
Jasmine or Thai fragrant rice are fine as they are simply boiled or steamed, but don't order coconut or fried rice as they'll add lots of unwanted calories.
If you like to order a pudding from your favourite takeaways, it is far better to pick the fruit based options, rather than fritters or ice creams, as are common on such menus. Not only are fritters fried, but they are usually covered in syrup too. Pick an exotic fresh fruit salad or sorbet for a low calorie end to your delicious takeaway.
You might also like...