Changing Your Relationship with Food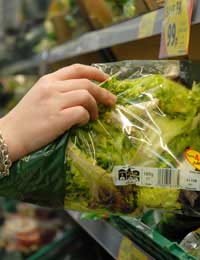 If your idea of a meal is to grab a ready-made snack on the go, or if you get annoyed by the 'inconvenience' of having to interrupt your busy day in order to eat, then perhaps it is time you changed your eating habits and your relationship with food.
Far from keeping you slim and fit, a lifestyle of working at your desk over lunch, or skipping meals altogether in the rush to go out somewhere in the evening, is likely to leave you stressed, depleted in energy and storing up health problems for the future.
Healthy Eating Habits
Even the busiest people should try to fit healthy eating habits into their day. Ideally that means choosing healthy, low calorie food and taking time to enjoy it. You will get through much more work, more effectively, and stay healthier if you do.
Perhaps you are reading this because you are aware that your diet isn't healthy enough, or you are eager to lose a few pounds with low calorie food, or you want to introduce the kind of healthy eating changes that the whole family will benefit from.
No Cooking Traumas
Attitudes to food and eating are now much more relaxed. Nowadays we are rarely faced with the trauma of cooking a formal dinner - perhaps with the exception of Christmas. A whole range of time-saving equipment is also there to help us, though people who enjoy cooking often prefer to prepare everything by hand. Chances are, in a healthy food kitchen, the salad spinner and the steamer basket will have most mileage.
Enjoy Choosing Fresh Food
Take a little time to shop for fresh, low calorie foods and to buy in-season choices where possible. These are likely to cost less than out-of-season vegetables and fruits, and more importantly they should be at their best. If you are lucky enough to have an independent greengrocer nearby it is still possible, even today, to buy enough fresh ingredients for several, low calorie family meals for the same money as a few packages of ready-made, high calorie, less satisfying foods. Supermarkets, of course, have a year-round extensive range which makes it easier to organise meals ahead of time.
Shopping For Health
Fill your shopping basket with all the appetising vegetables and fruit, and fresh low calorie products, you can find - go for colour, freshness and crispness, including peppers, tomatoes, courgettes, spring onions, mushrooms, beetroots, salads, herbs and more.
Fresh ingredients make nutritious, easy packed lunches - which you should take time out to enjoy, away from work. A breath of fresh air and a walk round the block will make it an even healthier experience.
Low Calorie, Energy Packed Lunch
Ingredients: (4 servings): 2 tbsp pine nuts; bag of mixed salad leaves; a vacuum pack of cooked beetroot; 100 grams low fat cheese. For the dressing: 2 tbsp extra virgin olive oil; 1 tbsp balsamic vinegar; half tbsp white wine vinegar; 1 tsp grain mustard; salt and freshly ground black pepper.
Fry the pine nuts for 5 minutes in a dry pan, stirring occasionally until golden. Set aside to cool. Combine dressing ingredients in a sealed container and shake well. Taste and season with salt and pepper.Wash the salad leaves and arrange into four portions. Cut beetroot into chunks and arrange over the leaves. If using straight away, crumble cheese over and sprinkle with toasted pine nuts. Drizzle dressing over.
If making the salad to take to work, hold back the dressing and cheese (put in small sealed containers) and combine at the last minute.
Tasty Haddock Bake
This is a nutritious low calorie, low fat meal which makes for very healthy eating.
Ingredients (serves 4): 4 large haddock fillets; salt and pepper; 2 tbsp lemon juice; 375 ml dry white wine; 250 grams seasoned, dried breadcrumbs.
Preheat oven to Gas 4 (180 degrees Celsius).
Lightly grease a baking pan with olive oil and place the haddock in the prepared pan. Sprinkle with salt and pepper and lemon juice and add the wine. Bake until the fish is opaque throughout and flakes easily when tested with a fork. Remove the pan from the oven, and sprinkle dried breadcrumbs over the fish. Place the pan under a pre-heated grill and cook for 2-3 minutes until light brown. Serve immediately.
It's handy to keep a supply of brown breadcrumbs ready. They can be made quickly by blitzing in a food processor and keep well for a few weeks in the freezer. Spread on a tray and dry in the oven for a few minutes if required dry for coating.
You might also like...