Healthy Recipes to Stop You Feeling Hungry After a Meal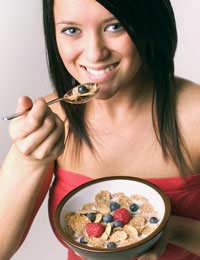 Routinely feeling hungry shortly after eating is a sign that the meal has not been balanced with the necessary nutrients to leave you full and satisfied.
Healthy eating means having a balanced diet of roughly two-thirds fruits and vegetables, grains and pulses, starchy foods like potatoes and pasta, seeds and nuts wholemeal breads and other complex carbohydrates. The remaining third is divided between dairy products and lean proteins, with only a small portion covering sugar and fats. These values are the basis of most low calorie recipes.
Start The Day Right
The best way to ward off hunger is to start with a proper breakfast. Foods high in dietary fibre are slower to digest, leaving us feeling full for longer. Low calorie recipes make good use of these. Traditional porridge, for example, makes an ideal start to the day. Healthy recipes also include a topping of pureed fruit like apples or apricots.
No Time To Cook? - Whiz Up A Nutritious Smoothie
It takes only minutes to gather the ingredients for a delicious smoothie and to combine them into a healthy concoction.
Almost Instant Three Fruit Breakfast
Serves two.
Take two morning glasses of orange juice and add to the blender. Add a large banana and roughly 170 grams of strawberries or any in-season soft fruit or frozen berries. Blend until smooth and start the day with a healthy, fibre-filled drink. There are endless variations to these low calorie recipes.
Keep hunger at bay during the morning by replacing the orange juice with half and half of semi-skimmed milk and low fat yogurt, and a sprinkling of cinnamon. Experiment with ingredients and flavourings to add more low calorie recipes to your healthy eating collection.
Protein-Rich Healthy Recipes
Getting enough protein in the course of the day is essential in slowing down the digestive process and keeping us feeling full. Low fat proteins are the healthiest. Get them in seafood, skinless poultry, meat trimmed of fat, low fat dairy products, eggs, soya and beans.
Spiced Lentil Soup
Healthy eating includes lentils - a really good source of protein, fibre and iron. This low calorie recipe has 205 calories per serving.
Ingredients (serves two)
115 grams red lentils
50 grams carrots
115 grams potatoes
1 small onion
1 tbsp virgin olive oil
1 teaspoon cumin powder
2 tsp coriander powder
1 teaspoon turmeric
1 dried red chilli
1 litre vegetable or chicken stock
Salt and freshly ground black pepper
2 tbsp natural yogurt (optional)
parsley or coriander leaves for garnish
Wash lentils in cold water, drain and set aside. Finely dice carrots, potatoes and onion. Heat the oil in a large saucepan and cook the onion until transparent. Add the spices and cook for 2-3 minutes stirring continuously.
Add carrots and potatoes to the saucepan with the lentils and stock, and bring to the boil. Reduce the heat and simmer for 1 hour until tender. Season to taste and, if desired, serve topped with yoghurt and a sprinkling of parsley or coriander.
Eat this soup with a crusty bread or nan bread for a satisfying lunch.
Wholewheat Pasta Salad
Ring the changes from potatoes in your low calorie recipes by serving this salad with cold meats, fish or chicken. It will provide a balanced, satisfying meal.
Ingredients (serves 4)
175 grams wholewheat pasta such as tagliatelle
2 sticks celery
12 small radishes
75 grams button mushrooms
3 tbsp low calorie mayonnaise
4 tbsp fromage frais
1 tbsp tarragon or white wine vinegar
a quarter teaspoon mustard powder
salt and freshly ground black pepper
25 grams raw cashew nuts (optional)
1 tbsp chopped chives
Place pasta in large pan of boiling, salted water and cook according to instructions on the packet. Meanwhile wash, trim and chop the celery into matchsticks, trim the radishes and quarter the cleaned mushrooms.
In a mixing bowl blend mayonnaise, fromage frais, tarragon or white wine vinegar, mustard powder and pepper to taste. Stir in the drained pasta, mushrooms, celery, radishes and optional nuts and mix well. Taste and season. Sprinkle with chives before serving.
Healthy And Filling Additions
Make baked potatoes even more healthy and filling by adding flavoursome toppings such as a mixed bean salad in a healthy light dressing.
The next time you prepare a low calorie recipe for meat or pork, add a tin of chickpeas to the diced vegetables and flavourings to boost nutritional content.
Have side dishes of lettuce and salad vegetables on the table routinely so that you will eat more for very few added calories.
Using healthy recipes with increased amounts of fruit and vegetables and complex carbohydrates will leave you satisfied with your meals for longer. Small snacks between meals are also essential, as long as they are good choices - think fruit, nuts, vegetable sticks or yogurt, for example.
You might also like...