Homemade Healthy Alternatives to High Calorie Take Aways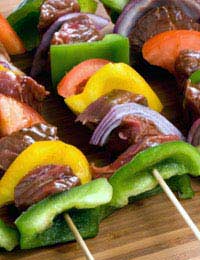 Fancy a curry, a kebab, a pizza? - these are high calorie take-away foods that push calorie counts through the roof.
You can, however, use low calorie recipes for healthy food that goes down a treat. You can 'lose' calories by choosing a different cooking method and cutting out heavy sauces. Yet you can add lots of vegetables, and keep the calorie count low, making the meals more filling and nutritious.
Curried Prawns And Vegetables
Ingredients (serves 2)
1 tbs olive oil
2 garlic cloves, crushed
piece fresh ginger chopped (2 tbsp)
2 tbsp wholemeal flour
2 tsp ground cumin
one-and-a-half tbsp curry powder
225 ml chicken stock
225 grams broccoli florets
110 grams sliced red onions
50 grams raisins
350 grams large, uncooked prawns
salt and freshly ground black pepper
2 tbsp crème fraiche
In a non-stick frying pan, heat the olive oil over medium heat. Add garlic, ginger, flour, cumin and curry and stir to blend. Add the stock. Cook until the sauce begins to thicken, roughly one minute. Add the vegetables and raisins. Cover and simmer for five or six minutes. Add the prawns and cook uncovered until ready,roughly two minutes. Season with salt and pepper, take off the heat and stir in the crème fraiche. This take-way alternative has around 450 calories per serving. Serve with boiled rice.
Lamb Kebabs With Kick
This recipe can be prepared in advance. The lamb can be marinated for up to 48 hours and the sauce kept in the fridge until needed.
Ingredients (serves 4)
700 grams lamb fillets (neck)
3 tsps fresh root ginger
3 tbsp light soy sauce
3 tbsp dark soy sauce
12 baby onions or shallots
For the yogurt and cucumber sauce
half a cucumber
1 clove garlic
1 tbsp chopped fresh mint or 1 tsp dried mint
150 ml natural yogurt
salt and freshly ground black pepper
Cut the lamb into bite sized chunks and place in a large bowl. Peel and grate the ginger. Combine the ginger and soy sauces and add to the lamb. Mix well until the meat is completely covered with the sauce. Cover and leave to marinate in the fridge for at least 12 hours, stirring once or twice.Cook the onions in boiling water for 5 minutes then drain and remove the skins. For the sauce, grate the cucumber coarsely and crush the garlic. Combine with the chopped mint and yogurt and season to taste. Cover and store in the fridge until required.
Preheat the grill. Thread lamb pieces and onions alternately onto 4 kebab sticks and grill, turning and basting frequently, for 15-20 minutes.
Healthy Food - Recipes for Home-Baked Pizza
Replace another high calorie food using quick pizza dough. A take away cheese and pepperoni pizza could total 650 calories a slice. Home made recipes with generous toppings of tomato sauce and vegetables, but light on cheese, can be half of that.
Pizza Dough
Remember, if these recipes seem fiddly to make at first, they get quicker with practice, and the smell and taste of fresh-baked pizza is worth the effort.
Ingredients
225 grams plain flour
quarter tsp sugar
1 level tsp low salt
one-and-a-half tsp dried yeast
1 standard beaten egg
75-110 ml hand-hot water; a little olive oil
Pour 75mls of the water into a basin and whisk in the sugar, followed by the yeast. Set the mixture to one side for 10 to 15 minutes until it gets frothy.
Meanwhile sift flour and salt into a mixing bowl. Add the yeast mixture and the beaten egg and mix together to form a dough. You may need more warm water to achieve a soft pliable dough.
Tip the dough on to a work surface and knead for about 10 minutes until fairly elastic. Put the dough back in the bowl and rub the surface with oil. Cover the bowl with a clean, damp cloth or cling film. Put in a warm place to rise for about an hour.Once the dough has doubled in size, knead it again for around 5 minutes. It is now ready to use.
Basic Tomato Sauce
This recipe is made from store cupboard ingredients and is the base for different toppings.
Ingredients (for 3-4 servings)
1 tbsp oil
1 large onion
peeled and chopped
2 cloves garlic, crushed
2 large tins tomatoes
three-quarter tsp dried basil (double if fresh )
1 large bay leaf; salt and freshly ground black pepper
Heat oil and fry the onion until soft and golden. Stir in the remaining ingredients and simmer (uncovered) for an hour or until the mixture has thickened like jam. Take the pan off the heat, discard the bay leaf and leave the sauce to cool.
This can be used in other recipes as the basis for a variety of fillings.
You might also like...