Exercise and the Low Calorie Lifestyle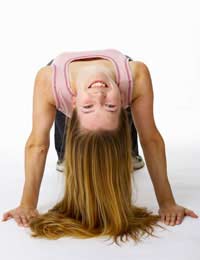 Eating a healthy, low calorie diet will soon have you feeling fitter and more energetic, and it is at that point that many people decide they want to look better too, the cue for some exercise.
It is accepted that in addition to getting you fit, exercise can help to reduce symptoms of depression and anxiety and generally make you feel better emotionally. Aerobic activity burns calories and, along with a low calorie diet which controls fat and calories, goes a long way toward melting away excess pounds.
Start Slowly and Gently
As your level of fitness increases, your heart, lungs and muscles become more efficient and you will find that you can do more without becoming tired. Most aerobic activity doesn't build muscle, but your muscles will look more toned and you will look leaner.
The good news is that you don't have to rush off and join a gym. You can work out to DVDs at home if you like or you can take an even more relaxed approach to exercise. Perhaps the word activity, and not exercise, is for you, because it will allow you to burn off calories in tandem with your low calorie, healthy eating regime, just by stepping up your everyday routines.
Remember to fuel your body with energy-rich foods such as complex carbohydrates, found in fruit, vegetables, wholemeal etc. and keep well hydrated.
Be aware that if you are not used to exercise of any kind you should consult your doctor first if:
you are over 45
you smoke tobacco
you have ever had high blood pressure or high cholesterol
you have a sedentary lifestyle
Dance for Fun
One of the most enjoyable ways to burn off calories is to dance. Television programmes have made dancing even more popular and it feels more like fun than serious exercise.
That said it can be as good a workout as playing basketball or running. If you dance regularly the results will be:
a toned lower body, especially calves, thighs, buttocks, abdomen and hips
strengthened major muscles in the lower body
weight loss and improved cardiovascular fitness
Remember, the heavier you are to start with, the more calories you will burn.
Because dancing is fun anyway, and it has been proved that exercise generally improves our mood, you can understand why dancers tend to be happy, confident, co-ordinated and energetic.
For every half hour, ballroom dancing will burn 105 calories; modern dancing 147; and country line-dancing 150.
How does your Garden - and your Fitness - Grow?
Gardening provides excellent exercise for your whole body and what a great opportunity to grow fresh produce for your low calorie recipes. It involves stretching, repetition, even resistance training and is challenging without being as stressful as jogging:
walking and other large-muscle movements give you an aerobic workout. Gardening activities like raking, sweeping, hoeing and digging are the most aerobic because they are sustained.
you will exercise back, chest, abdomen, buttocks, legs and shoulders.
doing some gardening three to five times a week will help you lose weight and keep it off.
Some of the gardening jobs and the calories they burn for every 10 minutes of activity are, planting seedlings, 48; hoeing, 62; digging 86.
Housework Counts Too
Every woman who works at keeping her home pristine knows that housework must count as exercise.
Because it uses all of the major muscle groups, housework builds strength, endurance and flexibility:
picking up clutter and carrying it from room to room, or up and down stairs, works the muscles in the arms, shoulders, legs and buttocks while back and abdominal muscles stabilise your body.
using a vacuum works the upper body, and walking with it around your home works legs and mid section.
scrubbing a floor or washing windows helps maintain strength in arms and back while the stretching maintains flexibility.
You must work yourself up slowly to doing housework for extensive periods, especially strenuous tasks. To avoid overworking particular muscles, switch from one task to another.
The average calories burned during a 10 minute period of housework is 30-50.
Walking with Attitude
If you are a regular walker but find you have to walk for long distances to burn off the calories you want, then bumping up a step to power walking will help you burn calories in less time.
Instead of three miles in an hour-long ordinary walk, a power walker will try to do four miles in the same period:
you will tone all the muscles in your lower body, including buttocks, hamstrings and quadriceps in the front of your thighs.
The calories burned per mile will be between 198 and 250.
Calorie Bonus
If you get into a routine of regular exercise, you will soon have unused calories in your daily tally; a wonderful opportunity for a delicious low calorie treat.
You might also like...