Best and Worst Choices in Body Shaping Foods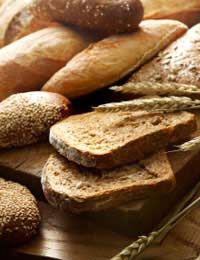 Every day you are faced with many choices in deciding what to eat and drink, and each decision, big or small, can be part of your plan to lose weight.
This doesn't mean opting for the carrot stick and the diet drink. Everyone needs to enjoy a variety of foods; it just makes sense to go easy on the high calorie, high fat foods and to aim for a healthy overall diet. It is easier to stick to a healthy plan if you know you can include some of your favourites.
Guilt Free Eating
Having established that eating more than you should at one meal won't spell disaster in your bid to have a leaner body, you can afford to be much more relaxed and guilt free about your approach to eating.
Learn to compensate with 'trade offs' - a light dinner, for example, on a day that you have a special lunch. Your selection of the 'best' foods for most of the time will keep your body in shape.
What are the Best Foods?
It is not possible to make comparisons with the hundreds of choices we have, but we can look in general terms at the best and worst choices in relation to the number of calories and grams of fat or fibre.
Breads and Rolls
Bread items should have fewer than four grams of fat per ounce in order to be healthy.
Best choice - wholegrain bread (per slice) - 70 calories; 1.1 grams of fat
Worst choice - medium croissant - 231 calories; 12 grams of fat
The complex carbohydrates in wholegrain foods, rich in nutrients and lower in calories, are the dieter's friend.
Cereals
Start your day with a cereal to avoid nibbling more during the morning. A good cereal supplies at least 5 grams of fibre per serving.
Best choice - bran cereal 50 calories; 0.5 grams of fat; 13.3 grams of fibre
Worst choice - sugar-coated cereal 120 calories; 1.0 gram of fat; 0.0 grams of fibre.
Cheeses
Try to limit your serving of cheese to around an ounce. If you are making a cheese sauce you don't have to use several ounces of high fat cheese. Two teaspoons of grated Parmesan is enough for flavour (costing 20 calories and 1.5 grams of fat).
Best choice - low fat cheddar per ounce 50 calories; 1.5 grams of fat
Worst choice - full fat cheddar per ounce 120 calories; 10 grams of fat.
Non-alcoholic Drinks
If you consider calories only, then plain water is the best thing you can drink. Try to avoid drinks with fat and sugar content and look for unsweetened drinks. Where there is some nutrition in return for added calories, for example in a glass of skimmed milk, that is also a wise choice.
Best choice - glass of still, sparkling or unsweetened flavoured water 0 calories; 0.0 grams of fat
Worst choice - large chocolate milkshake 430 calories; 13.0 grams of fat.
Desserts
You may be surprised that desserts are included, but you can have whatever you like occasionally. If you like a dessert more regularly, learn to make low calorie, low fat choices.
Best choice - poached fruit topped with toasted oats 55 calories; 0.0 grams of fat
Worst choice - slice of cheesecake 457 calories; 33.3 grams of fat.
Egg Dishes
Eggs are a good source of protein but you should aim to have no more than four eggs or egg yolks in a week. Try to make egg dishes with low fat or cholesterol-free ingredients.
Best choice - 1 poached egg 75 calories; 5.0 grams of fat
Worst choice - half cup egg salad with regular mayonnaise 190 calories; 16.3 grams of fat.
Meat Dishes
It is much easier today to keep high fat meats out of your shopping basket because the meat on sale is much leaner - including beef, pork and lamb. Try to eat portions of 3 ounces only and to use cooking methods such as grilling or roasting which means fat will not be reabsorbed.
Best choice - per 3oz portion, pork tenderloin 139 calories; 4.1 grams of fat
Worst choice - per 3oz barbecued ribs 337 calories, 25.8 grams of fat.
Fish and Seafood
Fish like salmon and tuna have slightly more fat and calories than white fish, but these 'good' fats supply omega-3 fatty acids which are beneficial to our hearts.
Best choice - 3oz of grilled or baked haddock 95 calories; 0.8 grams of fat
Worst choice - 3oz battered, fried fish 158 calories; 6.8 grams of fat.
Cooking Light
Remember, none of these foods, even in the 'worst' column, is completely off the menu. Just try to ensure that your overall diet is low calorie, low fat and cooked healthily, and that you are happy to make the odd substitution if you have had a calorie-rich treat.
You might also like...