Swapping Take Away Food for Healthy Versions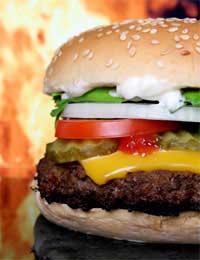 Even a modest slice of ready-made pizza - and who eats modest slices? - can carry a hefty calorie count.
Probably the last thing on your mind when you are wolfing down your home-delivered curry is how many calories you are consuming.
Get Acquainted With the Values
All the same, you really can have too much of a good thing.
If you are concerned at all about your long-term health and keeping fit, it could pay dividends to have at least a nodding acquaintance with the calorific values of take-away and fast food.
1. How many calories would you consume with only one slice (equal to one-sixth) of a large cheese and pepperoni pizza?
2. What would the calorie count be for a similar slice of 'alternative' thin-crust pizza topped with tomato sauce and piled high with mushrooms, peppers and onions?
3. When you are enjoying your quarter pound burger with cheese and bacon in a bun, do you know what the calorie count is?
4. A turkey burger, on a multi-grain roll, with salad and a salsa of tomatoes, onions and beans, has much more nutritional value. How many calories does it have?
5. A British favourite, chicken tikka masala with pilau rice and some naan bread would cost how many calories?
6. A leaner version, with all the taste and none of the fat, misses out the butter and naan bread and uses low calorie, reduced-fat coconut milk instead of cream. How many calories is it worth?
7. Don't be fooled by the calorie values on fries, whether eating out or at home. Values are often given per 100grams of chips, but an average portion is more in the region of 165 grams. Is the calorie count for skinny fries:
8. Chunky potato wedges are a healthier alternative. Is their calorie count for 150g:
9. The traditional favourite, fish and chips, is something few of us will be able to turn our backs on, but do you know how many calories you are consuming?
10. You can make a healthier alternative using low fat oven chips and coating the fish not in batter but in fresh breadcrumbs and spices, and baking in the oven, not frying. What would the calorie count be:
11. A popular salad bar choice is a chicken Caesar salad, with lettuce, chicken, dressing and croutons. How many calories are in a small salad:
12. The key to a healthier version, using skinless chicken breasts, is in the lean dressing which uses 0% fat yoghurt, garlic, lemon juice and a small amount of grated Parmesan. What is the calorie count:
13. As you reach for that Danish pastry when enjoying coffee with friends, you may want to consider an alternative. What is the calorie count for your treat:
14. If you chose a currant bun instead, and even topped it with low fat spread, your calorie count would still be much lower. Would it be:
15. Finally, do you know how many calories you chalk up with your tall, coffee-shop latte? It's over twice as many as a small, skinny latte and over one-and-a-half times the calories of a large cappuccino with whole milk.
Answers:
1 (b); 2 (c); 3 (a); 4 (a); 5 (c); 6 (b); 7 (c); 8 (b); 9 (c); 10 (b); 11 (b); 12 (c); 13 (a); 14 (b); 15 (c).
How Did You Do?
We're willing to bet you found more than a few real surprises in that list. Even if you think life is too short to go around counting calories everywhere, you must see how easy it could be to pile on the pounds if you ate high calorie take away and fast food too often.
The key is to remember that small changes can make a huge difference to your week. You could read a few more labels and ditch the huge pile of fries for a few potato wedges. You may also want to think twice before you reward a busy morning's shopping with an outsize latte and a cupcake!
You might also like...