No Time to Cook? Healthy, Quick and Nutritious Recipes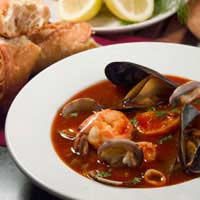 It's difficult to rustle up meals quickly if you are not organised. If you want to cook healthy, low calorie meals, but are short on time, you need to be prepared. Sacrificing a little time each week stocking up on a good variety of staples, will enable you to produce healthy meals fast, time after time.
Always buy a wide variety of fresh vegetables and salads. Add gradually to your stock of oils and vinegars, mustards, spices, and so on, so that you have versatile ingredients to hand.
Quick Prawn Soup
This spicy prawn soup is a healthy, low calorie starter with 140 calories per serving.
Ingredients (serves 4)
1 tbsp oil
125 grams onion
1 small green chilli
2.5 cm piece of fresh root ginger
50 gram small oyster mushrooms
1.1 litres chicken stock
1 stalk lemon grass
1 tbsp white wine vinegar
350 grams large, cooked, peeled prawns
bunch watercress
salt and pepper
Heat the oil in a large saucepan. Fry chopped onion, finely chopped, deseeded chilli and peeled, chopped ginger for 4-5 minutes. Add mushrooms and fry for 1-2 minutes. Stir in chicken stock, lemon grass and vinegar and bring to the boil. Reduce heat and simmer for 10-12 minutes. Add roughly chopped prawns and watercress and simmer for 2 more minutes. Remove the lemon grass, season soup and serve.
Beef in Wine Sauce
Rich in flavour and only 230 calories per serving, this recipe takes 10 minutes to prepare and 10 minutes to cook.
Ingredients (serves 6)
550 grams beef fillet
salt and pepper
2 tbsp oil
3 shallots, skinned and finely chopped
75 grams smoked streaky bacon, chopped
20 pink peppercorns in brine (optional)
175 ml red wine
50 ml beef stock
1 tbsp lemon juice
pinch freshly grated nutmeg
2 level tbsp redcurrant jelly
Cut beef into six slices and season. Heat the oil in a large frying pan, seal the beef, remove and keep warm. Add chopped shallots and bacon to the pan and saute for 3-4 minutes. Add peppercorns (if using) and the wine, stock, lemon juice and nutmeg. Bring to the boil. Stir in redcurrant jelly until melted. Season to taste. Return the meat to the pan and cover, simmer a further 2-3 minutes.
Mustard Pork and Pasta
This dish is 550 calories per serving and is a complete meal. It takes roughly 10 minutes to prepare and 15 minutes to cook.
Ingredients (serves 4)
175 grams dried pasta shapes
salt and pepper
450 grams pork fillet
olive oil
2 skinned and crushed garlic cloves
50 grams butter
225 grams sliced button mushrooms
2 level tbsp wholegrain mustard
4 level tbsp chopped fresh chives
Cook the pasta according to instructions. Meanwhile, after trimming the fat, cut the pork into thin, half centimetre slices. Heat 3 tbsp oil with the garlic in a large, non-stick pan. Add some of the pork and brown on high heat for 2-3 minutes. Remove with a slotted spoon and repeat with remaining pork. Add butter, mushrooms and mustard to the pan. Fry lightly for 2 minutes. Drain the pasta and toss in a little olive oil. Add pork and pasta to the saute pan and stir on high heat until piping hot. Season and sprinkle with chives.
Oriental Chicken
This low calorie meal is prepared in 10 minutes and cooked in 15 minutes. It has 410 calories per serving. Serve with plain boiled rice.
Ingredients (serves 4)
450 grams skinless chicken breast fillets
6 tbsp oil
3 tbsp oyster sauce
1 tbsp dark soy sauce
100 ml chicken stock
2 tsp lemon juice
1 skinned, finely sliced garlic clove
about 250 grams large flat mushrooms, sliced
125 grams mange touts
1 level tsp cornflour
1 tbsp sesame oil
salt and pepper
Cut chicken into bite-sized pieces. Heat 3 tbsp of the oil in a wok or frying pan. Add chicken and lightly brown on high heat, stirring for 2-3 minutes. Remove and drain on kitchen paper.Mix sauces, chicken stock and lemon juice in a bowl. Add chicken to this and stir.
Heat remaining oil over high heat, add garlic and stir-fry for 30 seconds. Add mushrooms and cook for 1 minute. Add chicken mixture, cover and simmer for 8 minutes.
Stir in mange touts and cook a further 2-3 minutes. Combine cornflour with 1 tbsp water. Remove pan from heat and stir in cornflour mixture. Return to heat, add sesame oil and stir until sauce thickens. Season and serve.
You might also like...