Low Calorie Dinner Party Desserts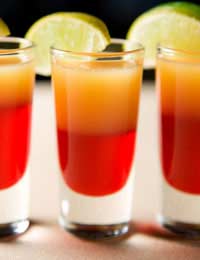 Just because you want to eat low calorie food doesn't mean you can't enjoy yourself! Rather than using calorie-laden ingredients like cream, sugar or chocolate for your dinner party desserts, why not try one of these ideas – you don't even have to tell your guests that they're low calorie, although they might be impressed!
Champagne Jelly
Champagne jelly ticks all the boxes for a dinner party dessert, with the added bonus of being low calorie. It's glamorous, looks pretty and it tastes delicious. It's also really easy to make.
You'll need half a bottle of champagne (cava or prosecco works just as well and makes this a more affordable option), some red berries (raspberries or redcurrants work especially well, although strawberries are a classic combination with champagne), a little sugar and two leaves of gelatine.
Start by pouring a little boiling water over the gelatine and leave it for a few minutes. In a bowl, stir a couple of spoons of sugar into the champagne. You can add a few drops of elderflower cordial here too. Carefully take the gelatine leaves out of the water and give them a gentle squeeze, then add them to the liquid. Put a few (odd numbers look better!) berries into the bottom of a glass for each person then pour the liquid on top. Leave to set. To decorate, add a few berries to the top – you can dust a little icing sugar over to look even prettier.
Balsamic Strawberries
Perfectly ripe strawberries macerated in a little balsamic vinegar are a very stylish way to end a meal, without that heavy feeling of a rich dessert.
It really is a very simple dessert – the main consideration is buying good quality ingredients, so don't skimp on the strawberries or the balsamic vinegar. Don't keep the strawberries in the fridge or the cold will ruin the flavour, buy them on the day you want to eat them. The best balsamic vinegar is from the Modena region of Italy.
All you need to do is gently wash and hull the strawberries and slice them. Pour over a few teaspoons of balsamic and leave it to steep for about 30 minutes to one hour. That's it! You can serve will a spoonful of crème fraiche, although they're delicious as they are.
Lime and Mint Sorbet
There's no need to buy sorbet when you realise how easy it is to make your own. It costs pennies and is a low calorie way to finish your dinner party. Sorbets are perfect for dessert after spicy foods and this lime and mint sorbet is especially good after Thai or Indian meals.
You will need a small handful of mint leaves (especially cheap and virtuous if you grow your own!), two limes and a cup of caster sugar. Wash and chop or tear the mint leave, wash the lime and put the zest in with the mint. Dissolve the sugar in some boiling water and add in the juice of both limes (put them in the microwave for ten seconds – no more! - to get the maximum juice). Leave the liquid to cool and then add in the zest and mint. Stir it all together and freeze. Stir again after a couple of hours, bringing the frozen outside into the middle and freeze again. You may need to do this a couple of times. Serve by dipping a scoop into boiling water to make neat sorbet balls and decorate with a sprig of mint.
You might also like...