Healthy Breakfast Recipes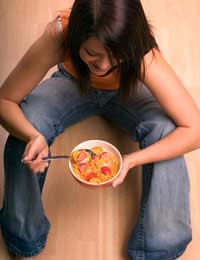 The time between your last meal of one day, and the first of the next, is the longest in 24 hours that your body has to go without food. Breakfast is an important meal, especially for growing children and young people; and it is also the opportunity to stoke up on the energy you need for the physical and mental exertion ahead of you.
Bread and cereals are very good sources of energy and nutrients, so even the busiest person who claims not to have time for breakfast should at least have some toast or cereal. A breakfast high in complex carbohydrates, such as wholegrain cereal with semi-skimmed milk and fresh fruit, or wholemeal toast with low-fat cheese, for example, is quick and nutritious.
The Best 'Starches'
Despite what many people believe, starchy foods are not fattening if eaten in moderation and they should make up the major part of your daily carbohydrate intake. The best bread by far is wholemeal bread, or whole wheat bread, which has had none of the wheat grain removed. It contains all the nutrients of the whole grain.
It is not the bread, however, but what you put on it, that can seriously rack up calories. Instead of denying yourself, why not have a thicker slice of bread toasted and cut back to a scraping on the topping? Butter and margarine have roughly the same calories at around 110 for 15 grams. Jams are lower in calories and fat. A 15 gram serving of honey will add about 43 calories, to your toast. Marmalade and ordinary jam have 39 calories. There are some good reduced-sugar jams which have only 21 calories a serving.
Crunchy Yogurt Breakfast
Use ripe soft fruit in season, or fruit from the freezer, thawed, for this breakfast.
Ingredients (serves 4)
1 cup low-fat granola or crunchy muesli
1 cup non-fat plain yogurt
8 large apricots, or 4 peaches, nectarines or other fruits, stoned and sliced
ground cinnamon
Divide the yogurt between 4 dessert bowls and top with the fruit and granola.
Porridge
Traditional porridge oats are still one of the cheapest and best balanced breakfast cereals available. Different versions of this staple appeal to different people; either the old-fashioned variety cooked in water with a little salt or, the microwave version mixed with milk, often preferred by children.
Home Made Apple and Pear Compote
Porridge and cereals can be even more nutritious if you add some fruit compote. This recipe, served warm, keeps in the fridge if you make extra.
Peel 1 apple and 1 pear and cut into pieces about 2 cm. In a saucepan combine apple pieces, 10 grams of butter and half tbsp of lemon juice and cook gently for a few minutes. Add the pieces of pear, half tsp of clear honey and a generous pinch of cinnamon. Cook gently for a further 8-10 minutes.
You can ring the changes with variations of fresh fruit and dried, even frozen or tinned if fresh is unavailable, and use the nutritious sauce on porridge or yogurt.
Eggs for Breakfast?
Eggs, traditionally, formed a regular part of breakfast but they seem to have fallen out of favour in recent times, perhaps because of their cholesterol content. However, they do contain valuable protein and are able to break down fat in the blood through their lecithin content. Having eggs once in a while, preferably poached or boiled, not fried, is a good addition to a varied diet.
Breakfast Kedgeree
We tend to make more time for a proper breakfast at weekends. This nutritious kedgeree makes a nice change and is made quickly. Use smoked haddock or other smoked white fish for good flavour.
Ingredients (serves 4)
175 grams long grain rice
2 large smokies (smoked haddock) or other cooked, cooled white fish
2 hard boiled eggs
50 grams unsalted butter
2-3 tbsp chopped parsley or salad leaves
Cook the rice according to instructions on the pack. Keep it hot. Split open the smokies and remove the flesh. If using other white fish, flake with a fork. Add the flakes to a bowl with butter. Cover and heat through for 1-2 minutes in the microwave.
Peel the eggs and chop the whites. Add the whites to the heated fish and butter with the parsley. Stir all of this into the rice. Season and top with sieved egg yolk.
Bacon and Eggs the Healthy Way
If you're planning a long Sunday walk, or need some serious fuel to give you the energy for a pile of outstanding chores, you might enjoy a guilt-free cooked breakfast of bacon, egg, sausage and tomato to start your day. Keep it healthy by leaving the frying pan in the cupboard. Grill the bacon, sausage, and tomato, and drain off any fat or juices, and poach the eggs.
You might also like...